Legal English Courses in Bournemouth
English for Law / Legal English
Our partner school's course of English for Law / Legal English is designed to help you develop your English language skills so that you can communicate effectively in a legal context.
Lawyers and legal professionals employed by international corporations and legal firms need to be able to understand documents written in legal English and to communicate effectively with professional colleagues in English.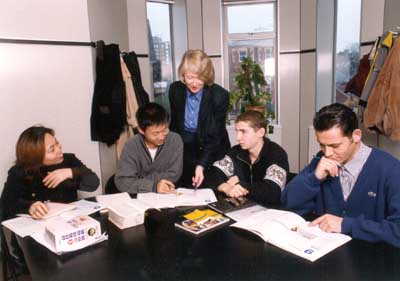 The English for Law / Legal English course uses a modern communicative approach designed to develop the student's ability to understand and express concepts in legal contexts and situations which the student is likely to encounter in their everyday professional life.
The English for Law / Legal English course uses task-based learning including group exercises, supervised discussion, role play and presentations to develop the student's ability in the key skills of speaking, listening, reading and writing and to widen their understanding of essential legal English, language structures, vocabulary, appropriate common expressions and grammar.
English for Law / Legal English course student profile – who is a typical English for Law / Legal English student at our partner school?
Our English for Law / Legal English students are lawyers and legal professionals from Europe and around the world.  Many of our clients are lawyers from leading law firms.  Of course, studying English for Law / Legal English gives you a great opportunity to make new friends and build international contacts in the legal profession.
Small class sizes mean faster progress in your English for Law / Legal English studies
Maximum group size 18 students per legal English class.  We believe in the benefits of personalised learning.  Our policy is to have a maximum of 18 students per English for Law / Legal English class.  This means you will benefit from greater teacher attention and improve your English for Law / Legal English faster.
Remember, studies show that you make faster progress when you study English in smaller groups.
Learn English for Law / Legal English in a modern business environment
Our partner school offers you the possibility to study legal English in a modern learning environment, equipped with Wi-Fi networked PCs as well as a DVD and audiobook library.
You can study legal English in a comfortable environment with access to our learning facilities as well as free refreshments.  Our support facilities mean that you can study legal English and maintain contact with your company and office.
Flexible courses
Our partner's English for Law / Legal English courses can be adapted to suit your needs. You can study legal English for one week or as many weeks as you wish depending on the time you have available and your own learning needs.  Most students take a course of 4 weeks / 8 weeks / 12 weeks.
Course duration: minimum 1 week.
Minimum age:18.
English level: working knowledge intermediate or above.
Group size: maximum 18 students.
English for Law / Legal English course intensity / course structure
A minimum of 10 lessons (= 7.5 hours) of English for Law / Legal English lessons per week plus 20 lessons (=15 hours) of General English per week.
General English lessons normally take place each morning, Monday to Friday.  There is a 1-hour lunch break and regular refreshment breaks.  The English for Law / Legal English component normally takes place in the afternoons, from Monday to Friday.
Methodology / Sample Activity Types:
Analysis of selected legal texts and dialogues.
Specialised vocabulary related to the main areas of law.
Main structures of grammar and syntax.
Written and listening comprehension.
Role play.
Supervised discussion and debate: expression agreements, disagreement and compromise.
Task based learning exercises.
Typical English for Law / Legal English course content
This course will typically develop language appropriate to the following subject areas:
Company Law.
Law of Contracts.
Employment Law.
Sale of goods.
Property Law.
Intellectual Property.
Competition Law.
Negotiable Instruments.
Debtor-Creditor.
Secured Transactions.
Assessment and Certification
If a student follows this English for Law / Legal English course and attends at least 80% of timetabled lessons, he or she will receive a certificate on satisfactory completion of all coursework and assessment pieces.  We will also supply periodic progress reports on request.
If desired, the student can choose to prepare for and sit a TOLES exam (our partner school is an official test centre for the TOLES exam).
Entry Requirements
Please consult us for information regarding the course entry dates.  The minimum age for entry to this course is 18.  Furthermore, except by special arrangement, an upper-intermediate level of English is required for entry to the course.  You may be required to take an aptitude test (before you arrive) to judge whether your standard of English is sufficient for this course.  You may wish to take a course of English Language Studies (General English) before beginning your course of Legal English to make sure that you gain the maximum benefit from your studies.
Maximum Group Size
There is a maximum group size of 18, although classes normally average around 14 students, in order to allow optimum interaction between group members and the course tutor.  We also stipulate a minimum group size of four, so that the student may benefit from certain projects and class activities which require a high level of student input.
Every course includes:
• Placement test.
• Needs analysis.
• Skills development.
• Task-based activities.
• Systems work.
• Supportive error correction and constructive feedback.
• Learner skills development.
• Progress tests.
• Tutorials.
• Homework.
• Academic counselling.
• Preparation for external examinations.
The course fees are: £330 per week for the normal programme structure.
Course books / materials: the first course book is included in the price for students studying 5 or more weeks.  If a student changes level or changes course, they will need to buy a new book relevant to their new class / course / level.  Course books normally cost £35 – £45, depending on the course selected.  Workbooks (normally £25 – £35) are optional and can be purchased separately.
Students studying for 1-4 weeks may borrow books at the library for a refundable deposit.
For more information about the Legal English course in Bournemouth, please contact us by emailing: