Medical English (English for Medicine)
Aims of the course
The Medical English course is designed to help you improve your knowledge of the sort of English required in the fields of human biology, medical science, nursing, etc. Improved language skills can advance your career and allow you to communicate fluently with your counterparts (and perhaps work) in other countries.
English for Medicine / Medical English course student profile – who is a typical English for Medicine / Medical English student at our partner school?
Our English for Medicine / Medical English students are doctors, nurses and other health practitioners from Europe and around the world. Many of our clients are medical specialists from leading hospitals and clinics. Of course, studying English for Medicine / Medical English gives you a great opportunity to make new friends and build international contacts in the medical profession.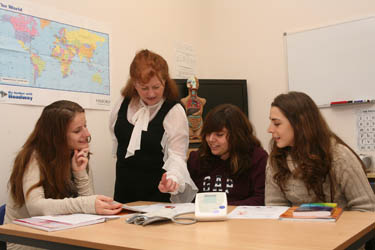 Small class sizes mean faster progress in your English for Medicine / Medical English studies
Maximum group size 18 students per Medical English class.  We believe in the benefits of personalised learning.  Our policy is to have a maximum of 18 students per English for Medicine / Medical English class.  This means you will benefit from greater teacher attention and improve your English for Medicine / Medical English faster.
Remember, studies show that you make faster progress when you study English in small groups.
Flexible Courses
ETC English for Medicine / Medical English courses can be adapted to suit your needs. You can study Medical English for one week or as many weeks as you wish depending on the time you have available and your own learning needs.
English for Medicine / Medical English course intensity / course structure
– 10 lessons (= 7.5 hours) per week of specialised Medical English tuition.
– 20 lessons (= 15 hours) per week of General English tuition.
– projects, assignments, case studies, seminars, lectures and group sessions.
– progress reports and assignments.
– optional visits to relevant places of interests, at additional cost.
Course duration: minimum 1 week.
Minimum age: 18.
English level: working knowledge – upper-intermediate or above.
Group size: maximum 18 students.
Please consult the Marketing Department or Director of Studies for information regarding the course entry dates, but we can normally accept clients for start dates on any Monday throughout the year, except when the centre is closed for a bank holiday.
Furthermore, (except by special arrangement) an upper-intermediate level of English is required for entry to the course. Students may be required to take an aptitude test (before arriving) to judge whether their standard of English is sufficient for this course. They may wish to follow a course of English Language Studies (General English) before beginning their course of Medical English to make sure that they gain the maximum benefit from their studies.
Typical Course Content / Sample Activity Types
The main areas that can be covered by this course (following needs analysis) are the following:
Communicating effectively with patients
Communicating effectively with professional colleagues
Discussing treatments, presenting opinions and assessments
Developing a winning CV and triumphing in English at interviews
Learning how to fit into a professional team in the UK
Making medical applications during the course
Spending time at a UK doctor's clinic (at additional cost).
Taking and understanding a patient history, asking about symptoms, recording information, communicating information accurately.
Examining a patient, rephrasing, explaining, prompting.
investigations.
Using a medical dictionary, medical documents.
Interpreting a diagnosis, explaining and discussing a diagnosis.
Understanding medical diagrams and documents.
Using general medical reference books and a pharmacology reference.
Examining case histories.
Studying the language as it relates to medical treatment: medical treatment, physiotherapy, surgical treatment, giving and understanding instructions.
Considering language functions appropriate to certain medical scenarios.
Learning common medical abbreviations.
Examining the structure and organisation of the British National Health Service, including a discussion of the British hospital system.
Discussing the future of medicine.
Assessment and Certification
If a student follows our English for Medicine / Medical English course and attends at least 80% of his or her classes, he or she will receive a certificate on satisfactory completion of all coursework and assessment pieces, mapped against the Common European Framework of Reference (CEFR), which will be recognised by academics and professionals internationally.
Our partner school will also supply periodic progress reports on request.
Built into every English for Medicine / Medical English student's course are the following:
Placement test.
Needs analysis.
Skills development.
Task-based activities.
Systems work.
Learner skills development.
Progress tests.
Tutorials.
Homework.
Academic counselling.
Supportive error correction and constructive feedback.
Preparation for external examinations.
What our students say:
I´ll never forget the three weeks I spent, doing a General English Course and a Medical English course. Everybody (staff and students) welcomed me with open arms, and I found the lessons very dynamic, fun and participatory, really fantastic. Medical English has been wonderful. I learnt the vocabulary for treating a patient, the meaning of the acronyms used by doctors in the UK, the organisation of the English health system, all in three weeks and it was always great fun. Of course, I made many good friends. For me, this experience has been unforgettable and I recommend it to all people who want to learn English, and all physicians who want to learn Medical English. Thank you for all. Kisses. Pilar.
Pilar Izquierdo Garcia, Spain. 15th March, 2011.
The course fees are: £330 per week for the normal programme structure.
Course books / materials: the first course book is included in the price for students studying 5 or more weeks.  If a student changes level or changes course, they will need to buy a new book relevant to their new class / course / level.  Course books normally cost £35 – £45, depending on the course selected.  Workbooks (normally £25 – £35) are optional and can be purchased separately.
Students studying for 1-4 weeks may borrow books at the library for a refundable deposit.
For more information, please contact us by emailing: